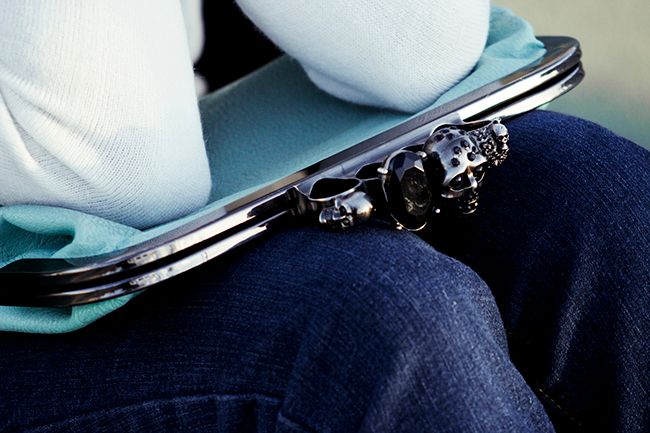 I was wearing:
TOMS
Leather jacket and White Peter Pan Sweater-Forever21
Clutch-San Diego Local Store
If you want to go out with friends, watch your boyfriend playing on the field, even to be comfortable during the day, this outfit is perfect for you. It is casual and chic. Sometimes you are tired of heels and skirts. A good pair of jeans, your favorite casual shoes(mine are my glitters Toms) and a messy bun is what you need. And if you don't believe me when I'm telling you that I'm petite, please look to the picture above. My legs are so short but I love them.
Yesterday I went to Los Angeles for my visa. I would always remember it as the day I drunk a lot of coffee and run on the streets of LA with my wedges sneakers. Please don't run with them. They are awful for running. Right now, I'm very tired and I wish I was on my bed. It didn't go well. They didn't accept one of my papers and one of my flights was cancelled yesterday. Stupid American Airlines.
I want to stay positive and think everything is going to be well but I don't feel any positive.
I hope you have a happy friday/
xoxo
Avi
&&
Si quieres salir con tus amigos, mirar a tu novio jugando en un partido de fútbol o simplemente estar cómoda en el día, este atuendo es perfecto para ti. Es muy casual y chic. A veces uno se cansa de los tacones y de las faldas. Un buen par de jeans, tus zapatos casuales favoritos, los míos son mis Tom's, y un chongo despeinado es lo que necesitas. Si no me creías cuando te decía que era chiquita, por favor mira la fotografía de arriba y podrás notar mis piernas son cortas. Pero no importa, me gusta ser chaparra.
Ayer fui a Los Angeles por mi visa. Siempre lo voy a recordar como el día que más café tomé y corrí por las calles de LA con mis tennis de tacón. Por favor no corran con ellos. Son pésimos para correr. Ahorita me siento muy cansada y desearía estar en mi cama. No me siento bien. No me aceptaron unos de los papeles y uno de mis vuelos se cancelo. Maldita American Airlines. Quiero estar positiva pero es difícil.
Espero todos tengan un feliz viernes.
xoxo